Donor's Story
On my 21st birthday, July 19th 2009, my mom, a dedicated cardiac nurse, asked if I would mind if we stopped by a donor drive set up by a friend of hers for their son who needed a bone marrow transplant match, before we went out to lunch. Of course I "didn't mind" although I will admit that I didn't really understand what bone marrow was or how one went about donating. At the drive they took a cheek swab and I was signed up for the registry, "that's it?" I thought, as they explained to me what the donation process would be like if I were found to be a match for a patient. After going out for sushi and my first 21 year old cocktail with my little sister and my mom, I had all but forgotten about the 10 minutes we had spent earlier at the donor drive.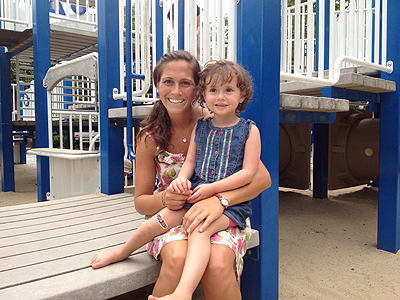 A little over a year later I received an email from a name I didn't recognize with a subject that started "YOU ARE A MATCH!" Needless to say, growing up in the age of technology made me instantly think, junk mail, delete... but something stopped me. I opened the email and found out I was a match for a patient who needed a transplant and "would I consider donating." Would I consider? What are you crazy? I wouldn't NOT consider, even for a second. With Penelope at the playgroundWait a minute though... it was the middle of September and I was leaving the county in December, moving to Israel. The process, therefore, started off quickly, many doctors appointments and blood tests, repeat blood tests and unconnected blood tests when my doctors found interesting results that they wanted to test further, unrelated to the donation process. I passed the test and I was fit to donate, if they found me to be the best match. I was going to participate in the newer transplant method, where you donate stem cells through the blood stream instead of extracting from the bone marrow in your tailbone. A week before donation day I started taking injections of a drug which rapidly increased my blood cell and stem cell count. My mom gave me the shots and I didn't even feel the potential "flu-like" symptoms. Then again, when you think about what you're doing it's hard to feel a few achy bones. On donation day Mom drove me in to Dana Farber. I'm so glad she was with me because, now here's a disclosure, I absolutely despise needles and tend to turn into a baby with these things. All of the blood tests had desensitized me a bit and I have donated blood before but I still don't like it. After a bit of trouble with the IV's in the beginning the nurses did some switching around between my arms and hands and finally we were up and running. I think it took about 4 or 5 hours for the whole aphaeresis process to be finished and for enough stem cells and white blood cells to be collected. Most of the blood is returned to the patient, it's not like donating blood, only a very small but concentrated portion of blood is actually removed. For me this is good since I don't recover well from blood donations, but here I was able to stand up and walk out just a few minutes later.
The whole time I didn't know much about the recipient except that she was a 3 year old girl with Leukemia. I didn't know where she lived, although for some reason I always kept thinking and saying New York, I guess because the DKMS office I donated through was based in New York. I didn't know her name or family history, but I did guess that she was like me... some mix of Jewish and Christian, Eastern and Western European background. After all, that would be why we were a match.
I donated December 15th and moved to Israel December 28th. I was told they were freezing the donation and that the recipient would only be ready at the end of January. I couldn't know the results, and couldn't get in contact with the family until a year after the transplant, per rules and regulations of the process. In April I was contacted by DKMS again, and yes, I almost deleted the email again, asking if I would be willing to do a second white blood cell donation. Since this time it was only white blood cells and not a full donation I didn't have to have the injections. I went to Hadassah Hospital in Jerusalem on May 2nd 2011, which also happened to be Holocaust Remembrance Day. My friend Eli came with me and we sat through another (relatively painless) few hours of donating. After this second donation I still had no insight as to how the little girl was doing.
During both donation days I found myself overcome with emotion and tearing up at times. I was a bit overtired and maybe it did hurt a bit having needles in my arms and hand for a few hours (those Russian doctors in Israel are a bit rough, not kind and gentle like the American ones!), but it wasn't being tired or the pain that brought me to tears. Playing with PenelopeIt was the understanding of the process that I was so blessed to be going through and the hopefulness of the success of the transplant that got to me. Knowing that if this worked, a little girl would be living with my blood DNA, my stem cells and white blood cells, and THIS would make her cancer free. Science is full of miracles, and this is definitely one of them. Plus, it doesn't hurt that I like to boast about my strong immune system and how I never get sick, she wasn't just getting any old white blood cells here!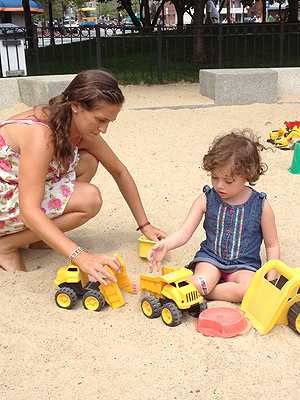 After many attempts at emailing DKMS and trying to find out information about the recipient I was starting to get nervous. I figured if a year had passed and I wasn't contacted it couldn't be a very good sign. Well, thankfully I was wrong, in May 2012, 1 year and 4 months after the transplant had taken place (to the best of my knowledge) I was sent a donor information release consent form. I anxiously filled out the form, debating which phone number to put down knowing that the family couldn't very well call me in Israel. A few weeks later, on June 27th, I received and email from Lori and Matt, Penelope's parents. It felt unreal, and I was reading this email, half asleep, after a night shift in the War Operations Room on my IDF base. We began to exchange email letters back and forth talking about ourselves and asking questions that we had been waiting a year and a half to ask. I told Lori and Matt about how I had moved to Israel after donating and had since joined the Israeli Defense Forces. I had been in the army for almost a year but I was planning a trip to visit back home in Boston for July and August, I couldn't wait to finally meet them. We sent pictures and continued exchanging emails, I always received mine in the early morning hours of my night shift because of the time difference but couldn't help responding as quickly as possible.
For a bit of time it seemed like it might not work out, us meeting up in the states, but finally we managed to schedule the meeting for my last day in the states. My mom, two sisters, best friend and I drove in to Boston to meet Lori, Matt, Penelope and her brother Felix, and well as a few other family members who had made the trip up to Boston for the meeting. We spent a few hours talking and exchanging stories before eating lunch and then playing at the playground. It took Penelope a few minutes to warm up to me but by the end of the day she was taking me around the playground with her and even wanted me, not her mom, to take her to the bathroom! Penelope is absolutely adorable and meeting her melted my heart, I couldn't believe how energetic she was. Lori told me that a few months ago Penelope would not have been able to play as she played that day, climbing up ladders and backward up slides, jumping off the stone wall into the sand and crawling through the tunnels, she would have gotten tired very quickly, Lori remembered. I felt a bit guilty, actually, realizing that the Penelope I know, and God willing the only Penelope I will ever know, will not be a sick or tired Penelope, she will be the energetic, playful, inquisitive girl I met last month. I didn't have the opportunity to go through the tough times with Penelope and her family, but I could not be happier that I get the amazing opportunity to be part of her life now and experience the happy, healthy times. As far as I am concerned I have just received another extension of my family, and I cannot imagine ever not being a part of Penelope's life or not having her as a part of mine.
The more Penelope and I learn about each other the more similarities we keep finding, which just adds to the miracle of it all. I'm sorry you have eczema now, Penelope, I promise you'll grow out of it just as I did. I'm glad you have a newly acquired love for peanut butter, though, that I can thankfully say will not go away! Also, your curls you have now since your hair grew back are absolutely adorable, they look just like my older sister Allie's curls did when she was younger, and curly hair is better than straight hair anyway.